JB Systems has had a lot of unique opportunities over the years, but this one in particular has special meaning. Not only because it supports a worthy cause, but the people behind it are making it work for them beyond our expectations.
Where it All Began…
Hope Gospel Mission is a local organization providing shelter, education, and job opportunities to those who have lost their homes and have nowhere else to turn for help. They came to us about 3 years ago, sat down in our conference room, and told us of the troubles they were having finding the right kind of software to manage all of the residents that they take in – either for an overnight stay or a long-term renewal program. They had struggled with how to make this easier for staff and residents, but they knew there must be a way.
At the time, more and more businesses were starting to use software 'in the cloud' (hosted on web servers instead of local computers or servers), but it was still a somewhat new concept in our area, especially when you're talking about building it from scratch and running your entire business with it.
But that's exactly what the team at JB Systems set out to do. Our developers started from scratch, listening to the needs of Hope Gospel Mission, understanding what they do, how they do it, when they do it…and started building a web-based software solution that filled the void that the mission had been trying to fill with previous software solutions.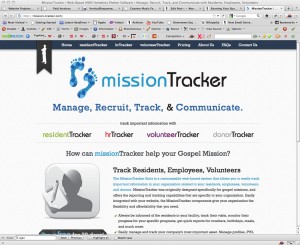 The initial result was ResidentTracker, a completely custom piece of software that now tracks hundreds of residents, including everything from their length of stay at the mission, to what medications they're on, to what educational programs they're in at the mission. The reporting capabilities are endless and help their staff to better understand the impact of their operations within the organization. Their logging system also keeps everyone informed on a daily basis about each resident and what's happening across their multiple facilities.
However, their quest to streamline the organization didn't end there. Once they saw the capabilities of ResidentTracker, they asked about finding a way to better track their 900+ volunteers.  They wished to include a time clock to keep track of volunteer hours, a method for reporting of volunteer hours, and a way to post their volunteer needs on their website. And so, VolunteerTracker was born.
After using VolunteerTracker for six months, it proved to be extremely efficient and helpful in managing and coordinating their volunteers. So, they asked for the same capabilities for their staff. There were some additional features they wanted to add, like benefits management, PTO accrual and requests, wage information, document archiving, and more reporting. After some productive brainstorming sessions, HRTracker was born.
This full suite of software, all accessible via the Internet, has streamlined their business considerably in terms of staff time saved, accuracy of their records, enhanced internal communication, and cost savings. Because it's fully customizable, it will grow with them as their needs change. Their tools also integrate directly with their website so there's no need for entering information twice anymore.
And the Idea Grows…
Last spring, Hope Gospel Mission asked JB Systems to attend their national conference of the AGRM (Association of Gospel Rescue Missions). With excitement at the prospect of sharing this great software, a team from JB Systems headed to San Diego.  There, we were welcomed by gospel mission staff from across the country, who were also seeking a better software solution. As the word spreads, we hope that other gospel missions will take advantage of the possibilities that lie in the easy-to-use, custom, web-based software that has now become known as MissionTracker.
More Possibilities
Not only are gospel missions looking at MissionTracker as an option to run their businesses, but other small and medium sized businesses are looking at the individual components of it to use as stand-alone software. HRTracker, with its online time clock, PTO management, and benefits administration, is a much needed software solution for businesses who have several employees, but don't have the cash for something like PeopleSoft.
VolunteerTracker has also caught the attention of local nonprofits, and could have a huge impact on small organizations that struggle with making the best use of limited staff time. Managing volunteers with an online system capable of quick reporting can save staff time that exceeds the cost of the program.
Both programs offer great opportunities for businesses to grow and make their lives easier, without having to invest as much as they would have in the past.
Giving Back
Obviously, Hope Gospel Mission played a HUGE role in the development of MissionTracker, and we don't intend to take that for granted. A portion of all of the sales of MissionTracker go directly to Hope Gospel Mission.  The funds will support the programs they provide for those who have to struggle daily just to survive. It is our intent to help them in their mission, as they have helped us in ours.
Links
You can learn more about Hope Gospel Mission here.
You can learn more about MissionTracker here.
You can learn more about JB Systems here.