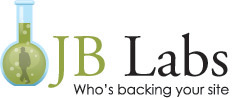 JB Systems is proud to announce our newest concept, JB Labs. From seminar websites to home builder websites, and from web applications used state-wide by over 50 individuals and custom apps used by 20+ million dollar companies – the programming team at JB Systems is a force to be reckoned with. With over 15 years of combined experience, there's not a whole lot we can't do. It is this department that has made
JB Systems the place to go when all developers say "We Can't".
Our newest concept, JB Labs, is open for suggestions. Do you have an idea for your website that others have said, "Nope – we can't do that?" It is the mission of JB Labs to continually develop and push the bar forward for website technologies in the Chippewa Valley and surrounding areas. Stay tuned for updates on The JB Labs, as well as postings about new tools, experiments, and technology updates for our websites.