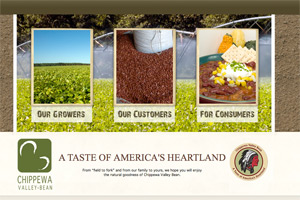 Written by Gerald Bauer, Owner of JB Systems

JB Systems is proud to announce our newest website (and masterpiece!) for Chippewa Valley Bean, the United State's largest kidney bean operation. Located in Menomonie, WI, the Doane family has been operating the farm since since 1858. After researching several firms, they chose JB Systems for our keen sense of website knowledge – and more thorough suggestions for their site than what other developers offered.
The website, seated comfortably at www.cvbean.com, is a great example of how we at JB Systems can combine some of the latest website technologies with dramatic imagery – thus creating a site that is not only functional, but (dare we say) gorgeous. The images, a combination of ones accumulated previously by Chippewa Valley Bean, and ones shot by JB Systems ourselves, helps bring a more intimate and "real life" view of what goes on at the farm. This, along with some easy-to-use administration tools that allows C.V. Bean to keep parts of their website updated – provides a "recipe" for one awesome website.
We want your feedback! Take a look at the site and COMMENT BELOW.