Many of our clients get solicitations from domain registry companies and DNS management services on a regular basis. They look like an invoice, and sometimes they even have what looks like legitimate information on them. But – beware…these are sneaky marketing pieces trying to get you to just pay it, when in fact, you may not have to. Here's what they look like: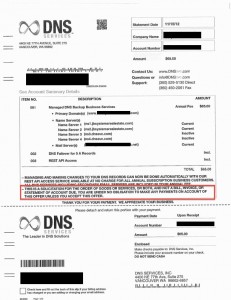 We have also had clients receive mail from places like Domain Registry of America, a company that handles domain registrations. However, their marketing piece looks like a notice of a domain expiring, and that by paying the invoice (or what looks like an invoice), all will be well with the domain name. Here's what that might look like:
(Notice in both examples the areas in red….these are giveaways that it is just a solicitation, not a bill requiring payment.)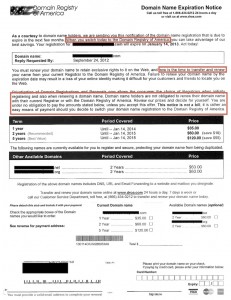 In the big picture of marketing, this tactic isn't new. Magazines have been doing this with their subscriptions for years. But – in today's technology-driven world, a domain name can make or break a business. The industry has made their money on fear – our fear of losing a domain, fear of our competitor getting our domain, fear of losing business all because we let a domain name expire. Wow! That's powerful!
So, it's no surprise that business owners and website managers are cautious anytime they receive a notice about their domain name. As they should be – it is important to pay attention to. However, there are easy ways to go about making sure that your domain name is well taken care of.
1. Check your WHOIS listing.
WHOIS is a directory of domains and their registration information. Look for the expiration date, and the "Registrant" info. Your company name should be listed as the Registrant. You can find your WHOIS listing by going to who.godaddy.com and typing in your domain name.
2. If you manage your own domain name with someone like GoDaddy, Network Solutions, ENOM, or other similar sites,make sure to set your domain name to 'Auto-Renew'. That means that it will automatically renew your domain name for you without having to worry that it will expire.
3. When purchasing a domain name, purchase it for multiple years (max is usually 9 or 10 years). This not only takes the burden off of you to renew it every year, but it also gets you bonus SEO (search engine optimization) points!
4. Call JB Systems! Domains seem like the unknown to many small business owners, but it doesn't have to be a part of your business that is shrouded by fear. If you're ever in doubt, our team at JB Systems can check on your domain, or manage it for you.