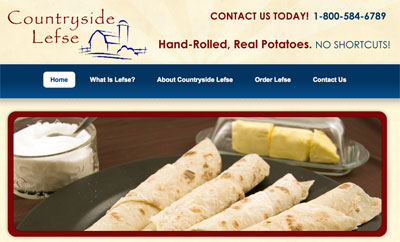 JB Systems' newest e-commerce site COUNTRYSIDE LEFSE has had a tremendous first season, accumulating gross sales in access of 3 times its cost within 60 days.
Being a relatively straightforward e-commerce site, the developers at JB Systems provided a cost-effective solution catering to one goal: Create the most easy-to-use Lefse-ordering website online. Period.
Using technologies such as security certificates from Comodo, our newest billing and shipping technologies, as well as UPS integration for quick & easy label printing – JB Systems went to work. After 60 days of being live, and having paid for itself in that time period – we're proud to say mission accomplished.
To see this site in action, visit  http://www.lefse.com