Written by Meghan Bauer, Art Director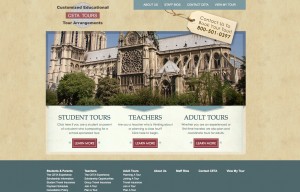 The world wide web has developed into an ever-expanding electronic canvas for creativity and design. At JB Systems, we take design seriously – and offer the most custom approach. We're proud to announce one of our newest website, CETA TOURS, and we're incredibly pleased with how it turned out – both functionally and visually.
The goal was simple (or so we thought) – to create a website for three separate audiences – Student Tours, Teachers, and Adults looking to join a tour. We needed to organize all of that information and then visually convince website visitors that they want to travel – that they need to travel. The result … a breathtaking website featuring a custom design that incorporates "travel elements" such as luggage tags and baggage, as well as breath-taking views from all over the world, from France to Egypt, and from Germany to Spain.
Combine this level of design – with JB Systems' advanced website technology – and you have a great looking website that never looks outdated. Don't believe me? Try hitting the "Refresh" button. Banners throughout the entire site change, automatically, keeping the pages fresh and constantly delivering important and relevant information to visitors. Add a little jQuery and you have a nicely animated drop down menu for navigation – that is still SEO-Friendly and looks fantastic.
We hope you enjoy our new CETA Tours website – and welcome your comments below (yup, down there, below here)!!